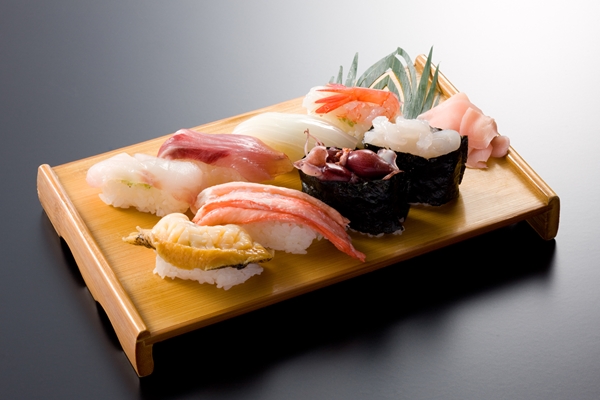 When enjoying sushi, there are no complicated rules of conduct you need to follow, like those you need to for a tea ceremony. However, there are ways to eat sushi that will enhance the experience.
A frequently raised question is whether to eat by hand or by using chopsticks. During the times when the nigiri sushi made its debut, people were in the habit of enjoying the dish by hand at yatais (food stalls), where standing and eating was the order of the day. But as time passed, the custom of sitting down, even at counters, was introduced, along with the use of chopsticks. So whichever way is appropriate, but eating by hand helps you enjoy sushi more easily, since doing so helps you prevent rice from spilling and makes it easier to dip the delicacy into some soy sauce.
However, prior to eating, make sure you wash your hands well.
Whichever method you opt for in the end, if you are going to eat nigiri sushi, avoid removing the topping and eating it separately from the rice.
Also, avoid going overboard with the soy sauce.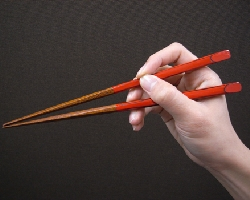 Hold the chopsticks by grasping them between your thumb and forefinger and positioning your middle finger between the two sticks, moving only the upper stick when necessary.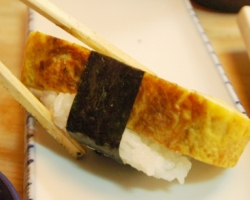 Grasp the middle part of the sushi with the chopsticks, lay sideways, and then pick up.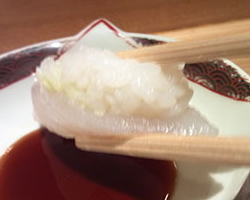 Tilt the topping downward and dab soy sauce onto its tip.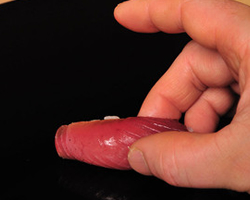 Wipe your hands well with an oshibori (a moist hand towel), and then lay the sushi sideways by lightly grasping it, using your thumb, forefinger, and middle finger.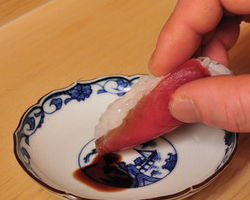 The material is made to become below, and the soy sauce is applied only a little ahead.